Gejala Hijrah di Indonesia: Transformasi dari Islamisme Fundamentalis Menuju Islamisme Populer
Keywords:
hijrah, transformasi, Islamisme, fundamentalis, budaya populer
Abstract
Beberapa pengamat melihat gejala hijrah sebagai manifestasi corak keagamaan konservatif dan fundamentalis yang dikhawatirkan membawa agenda terselubung berupa ideologi Islam politik. Artikel ini berargumen bahwa fenomena hijrah merupakan ekspresi keagamaan kultural, yang bergerak ke wilayah budaya populer dan Islam tengahan. Secara historis, kelahiran wacana hijrah punya pertautan dengan kelompok islamisme fundamentalis yang menjadikan hijrah sebagai doktrin kunci perjuangan ideologi Islam. Namun komunitas hijrah kontemporer bertransformasi bersamaan dengan arus modernisasi dan globalisasi, memudarnya daya tarik islamisme dan organisasi keagamaan mainstream. Gerakan hijrah dengan menggunakan media sosial, mampu membingkai dan merebut makna baru hijrah sebagai upaya transformasi diri dari kehidupan yang kurang islami menjadi lebih islami atau sebagai pertaubatan diri. Gerakan hijrah juga mampu menyerap aspirasi populer di kalangan anak-anak muda perkotaan yang mengalami moral panic.
Downloads
Download data is not yet available.
References
Abbas, Syarif El, dan Saifuddin Zuhri Qudsy. "Memahami Hijrah Dalam Realitas Alquran Dan Hadis Nabi Muhammad." Jurnal Living Hadis 4, no. 2 (27 November 2019): 277–307. https://doi.org/10.14421/livinghadis.2019.2021.
Abubakar, Carmen A. "MNLF Hijrah: 1974–1996." Asian and Pacific Migration Journal 8, no. 1–2 (1 Maret 1999): 209–21. https://doi.org/10.1177/011719689900800112.
Ahmad, Munawar, Ustadi Hamzah, Singgih Basuki, Siswanto Masruri, dan Hayadin Hayadin. "Struktur Kesucian, Hijrah dan Ruang Queer: Analisa Terhadap Perilaku Mahasiswa Bercadar." EDUKASI: Jurnal Penelitian Pendidikan Agama dan Keagamaan 17, no. 3 (14 Desember 2019). https://doi.org/10.32729/edukasi.v17i3.576.
Aldridge, Alan. Religion in the Contemporary World. Cambridge: Polity, 2008.
Al-Faruqi, Isma'il R. "Towards a Historiography of Pre-Hijrah Islam." Islamic Studies 1, no. 2 (1962): 65–87.
Andilau, Andilau, Andri An, Saifudin Saifudin, dan Abdullah Mahmud. "The Meaning of Hijrah in the Qur'an Surah An-Nisa [4] verse 100: From the View of Esoteric and Exoteric Interpretation," 31 Juli 2022. https://doi.org/10.2991/assehr.k.220708.005.
Arrobi, Mohammad Zaki. Islamisme ala Kaum Muda Kampus. Yogyakarta: Gadjah Mada University Press, 2020.
Basri, Muhammad Ridha. "Melawan Stigma Radikal: Studi Gerakan Perempuan Bercadar Di Instagram." Aplikasia: Jurnal Aplikasi Ilmu-Ilmu Agama 21, no. 2 (30 Desember 2021): 147–64. https://doi.org/10.14421/aplikasia.v21i2.2562.
Bayat, Asef. Pos-Islamisme. Diterjemahkan oleh Faiz Tajul Millah. Yogyakarta: LKiS, 2011.
Berger, Peter L., ed. The desecularization of the world : resurgent religion and world politics. Washington DC: Ethics and Public Policy Center, 1999.
Bright, Martin, Antony Barnett, Burhan Wazir, Tony Thompson, Peter Beaumont, Stuart Jeffries, Ed Vulliamy, Kate Connolly, Giles Tremlett, dan Rory Carroll. "The Secret War." The Observer, 30 September 2001, bag. World news. https://www.theguardian.com/world/2001/sep/30/terrorism.afghanistan6.
Bruinessen, Martin van. "Genealogies of Islamic Radicalism in Post-Suharto Indonesia." South East Asia Research 10, no. 2 (1 Juli 2002): 117–54. https://doi.org/10.5367/000000002101297035.
Casewit, Daoud S. "Hijra as History and Metaphor: A Survey of Qur'anic and Hadith Sources." The Muslim World 88, no. 2 (1998): 105–28. https://doi.org/10.1111/j.1478-1913.1998.tb03650.x.
Castells, Manuel. The rise of the network society: The information age: Economy, society, and culture. Second. 1 vol. UK: Wiley-Blackwell, 2010.
Christanty, Linda. "Semua untuk Aceh Merdeka." IndoPROGRESS, 21 Mei 2010. https://indoprogress.com/2010/05/semua-untuk-aceh-merdeka/.
Cioran, Emil M. The Trouble with Being Born. Diterjemahkan oleh Richard Howard. Arcade Cioran. New York: Arcade Publishing, 1998. http://gen.lib.rus.ec/book/index.php?md5=338C07C26C3D736D1CFCE48FF9A70E1F.
Conflict, Institute for Policy Analysis of. "The DI/NII Cells." The Decline of ISIS in Indonesia and the Emergence of New Cells. Institute for Policy Analysis of Conflict, 2021. http://www.jstor.org/stable/resrep28849.8.
Cozzens, Jeffrey B. "Al-Takfir wa'l Hijra: Unpacking an Enigma." Studies in Conflict & Terrorism 32, no. 6 (28 Mei 2009): 489–510. https://doi.org/10.1080/10576100902886044.
Dawson, Lorne L., dan Amarnath Amarasingam. "Talking to Foreign Fighters: Insights into the Motivations for Hijrah to Syria and Iraq." Studies in Conflict & Terrorism 40, no. 3 (4 Maret 2017): 191–210. https://doi.org/10.1080/1057610X.2016.1274216.
Dewi, Oki Setiana. "Pengajian Selebriti Hijrah Kelas Menengah Muslim (2000-2019): Respons atas Dakwah Salafi dan Jamaah Tabligh." UIN Syarif Hidayatullah, 2020.
Effendy, Bahtiar. Islam and the State in Indonesia. Singapore: ISEAS–Yusof Ishak Institute, 2003.
Fealy, Greg. "Radical Islam in Indonesia: history, ideology and prospects." Local Jihad: Australian Strategic Policy Institute, 2005. http://www.jstor.org/stable/resrep04150.6.
Formichi, Chiara. "Pan-Islam and Religious Nationalism: The Case of Kartosuwiryo and Negara Islam Indonesia." Indonesia, no. 90 (2010): 125–46.
Hasan, Noorhaidi. "Dinamika Politik Islam di Indonesia Tahun 2020." Dalam Islam Indonesia 2020, disunting oleh Azyumardi Azra. Yogyakarta: UII Press, 2020.
———. Laskar Jihad: Islam, Militansi, dan Pencarian Identitas di Indonesia Pasca-Orde Baru. Diterjemahkan oleh Hairus Salim. Jakarta: LP3ES dan KITLV-Jakarta, 2008.
Hasan, Noorhaidi, Suhadi, Munirul Ikhwan, Moch Nur Ichwan, Najib Kailani, Ahmad Rafiq, dan Ibnu Burdah. Literatur Keislaman Generasi Milenial Transmisi, Apropriasi, dan Kontestasi). Yogyakarta: Pascasarjana UIN Sunan Kalijaga Yogyakarta, 2018.
Hefner, Robert W. "Islamizing Java? Religion and Politics in Rural East Java." The Journal of Asian Studies 46, no. 3 (1987): 533–54. https://doi.org/10.2307/2056898.
Heryanto, Ariel. Identitas dan Kenikmatan: Politik Budaya Layar Indonesia. Diterjemahkan oleh Eric Sasono. Jakarta: Gramedia, 2015.
———. "Upgraded Piety and Pleasure: The New Middle Class and Islam in Indonesian Popular Culture." Dalam Islam and Popular Culture in Indonesia and Malaysia, disunting oleh Andrew N Weintraub. London and New York: Routledge, 2011.
Hisyam, Muhammad. Fesyen Muslimah dan Transformasi Kultural. Jakarta: LIPI Press, 2017.
Imdadun, Muhammad. Arus Baru Islam Radikal: Transmisi Revivalisme Islam Timur Tengah ke Indonesia. Jakarta: Erlangga, 2005.
———. "Transmisi Gerakan Revivalisme Islam Timur Tengah ke Indonesia 1980-2002: Studi Gerakan Tarbiyah dan Hizbut Tahrir Indonesia." Universitas Indonesia, 2003.
Karim, Abdul Gaffar. "Jamaah Shalahuddin: Islamic Student Organization in Indonesia's New Order." The Flinders Journal of History and Politics 23 (2006): 34–56.
Kepel, Gilles. Jihad: The Trail of Political Islam. Diterjemahkan oleh Anthony F. Roberts. Cambridge: Belknap Press, 2003.
Khatab, Sayed. The Political Thought of Sayyid Qutb: The Theory of Jahiliyyah. London and New York: Routledge, 2006.
Latif, Yudi. Inteligensia Muslim dan Kuasa: Genealogi Inteligensia Muslim Indonesia Abad ke-20. Bandung dan Jakarta: Mizan dan Democracy Project, 2012.
Melucci, Alberto. "Inner Time and Social Time in a World of Uncertainty." Time & Society 7, no. 2–3 (1 September 1998): 179–91. https://doi.org/10.1177/0961463X98007002001.
———. Nomads of the Present: Social Movements and Individual Needs in Contemporary Society. London: Hutchinson, 1989.
Missbach, Antje. "The Acehnese diaspora after the Helsinki Memorandum of Understanding: Return challenges and diasporic post-conflict transformations." Asian Ethnicity 12 (1 Juni 2011): 179–201. https://doi.org/10.1080/14631369.2011.571836.
Nashir, Haedar. Islam Syariat: Reproduksi Salafiyah Ideologis di Indonesia. Bandung: Mizan, 2013.
Parker, Lynette, dan Pam Nilan. Adolescents in Contemporary Indonesia. Adolescents in Contemporary Indonesia. New York: Routledge, 2013. https://doi.org/10.4324/9780203522073.
PPIM UIN Syarif Hidayatullah Jakarta. "Tren Keberagamaan Gerakan Hijrah Kontemporer." Jakarta: PPIM UIN Syarif Hidayatullah, 2021.
Robertson, Roland, dan Joann Chirico. "Humanity, Globalization, and Worldwide Religious Resurgence: A Theoretical Exploration." Sociological Analysis 46 (21 September 1985): 219. https://doi.org/10.2307/3710691.
Roy, Oliver. The Failure of Political Islam. Harvard: Harvard University Press, 1994.
Saefullah, Hikmawan. "Transformations of Youth Resistance: Underground Music Scene and Islamic Politics in Post-Authoritarian Indonesia." Phd, Murdoch University, 2022. https://researchrepository.murdoch.edu.au/id/eprint/65132/.
Sari, Trie Yunita. "Hijrah and Islamic Movement in Cyberspace: A Social Movement Study of Anti-Dating Movement #indonesiatanpapacaran." Universitas Gadjah Mada, 2019. http://etd.repository.ugm.ac.id/home/detail_pencarian/173185.
Schulze, Kirsten E., dan Joseph Chinyong Liow. "Making Jihadis, Waging Jihad: Transnational and Local Dimensions of the ISIS Phenomenon in Indonesia and Malaysia." Asian Security 15, no. 2 (4 Mei 2019): 122–39. https://doi.org/10.1080/14799855.2018.1424710.
Setia, Paelani, dan Rika Dilawati. "Tren Baru Islam Melalui Gerakan Hijrah: Studi Kasus Shift Pemuda Hijrah." Khazanah Theologia 3, no. 3 (24 Juni 2021): 131–46. https://doi.org/10.15575/kt.v3i3.12708.
Sulaiman, Akhmad. "Gerakan Indonesia Tanpa Pacaran (GITP): Propaganda and Mobilization of Youths' Social Praxis." FIKRAH 8, no. 2 (16 November 2020): 225–42. https://doi.org/10.21043/fikrah.v8i2.6711.
Toguslu, Erkan. "Caliphate, Hijrah and Martyrdom as Performative Narrative in ISIS Dabiq Magazine." Politics, Religion & Ideology 20, no. 1 (2 Januari 2019): 94–120. https://doi.org/10.1080/21567689.2018.1554480.
Uberman, Matan, dan Shaul Shay. "Hijrah According to the Islamic State: An Analysis of Dabiq." Counter Terrorist Trends and Analyses 8, no. 9 (2016): 16–20.
Van Bruinessen, Martin. Contemporary Developments in Indonesian Islam: Explaining the Conservative Turn. Singapore: Institute of Southeast Asian Studies, 2013.
Widya, Bella. "Pemahaman Takfiri Terhadap Kelompok Teror Di Indonesia Studi Komparasi Jamaah Islamiyah Dan Jamaah Ansharut Daulah." Jurnal Studi Diplomasi Dan Keamanan 12, no. 2 (3 Juli 2020). https://doi.org/10.31315/jsdk.v12i2.3525.
Zamora, Laura Sabater. "Hijrah: Answering To The Call Of The Caliphate: Analysis of European Muslim women's migration to Syria to join ISIS." Aalborg University Denmark, 2016. https://projekter.aau.dk/projekter/en/studentthesis/hijrah-answering-to-the-call-of-the-caliphate(d8d1f5d3-c30d-4944-8793-6cdbb7ac9baf).html.
Zarei, Mojtaba, dan Mohammad Javad Goodini. "A Comparative Study of Classic Khawarij and Contemporary Takfiri Groups with Special Emphasis on Daesh." The Journal of Research in Humanities 24, no. 2 (10 Agustus 2018): 141–59.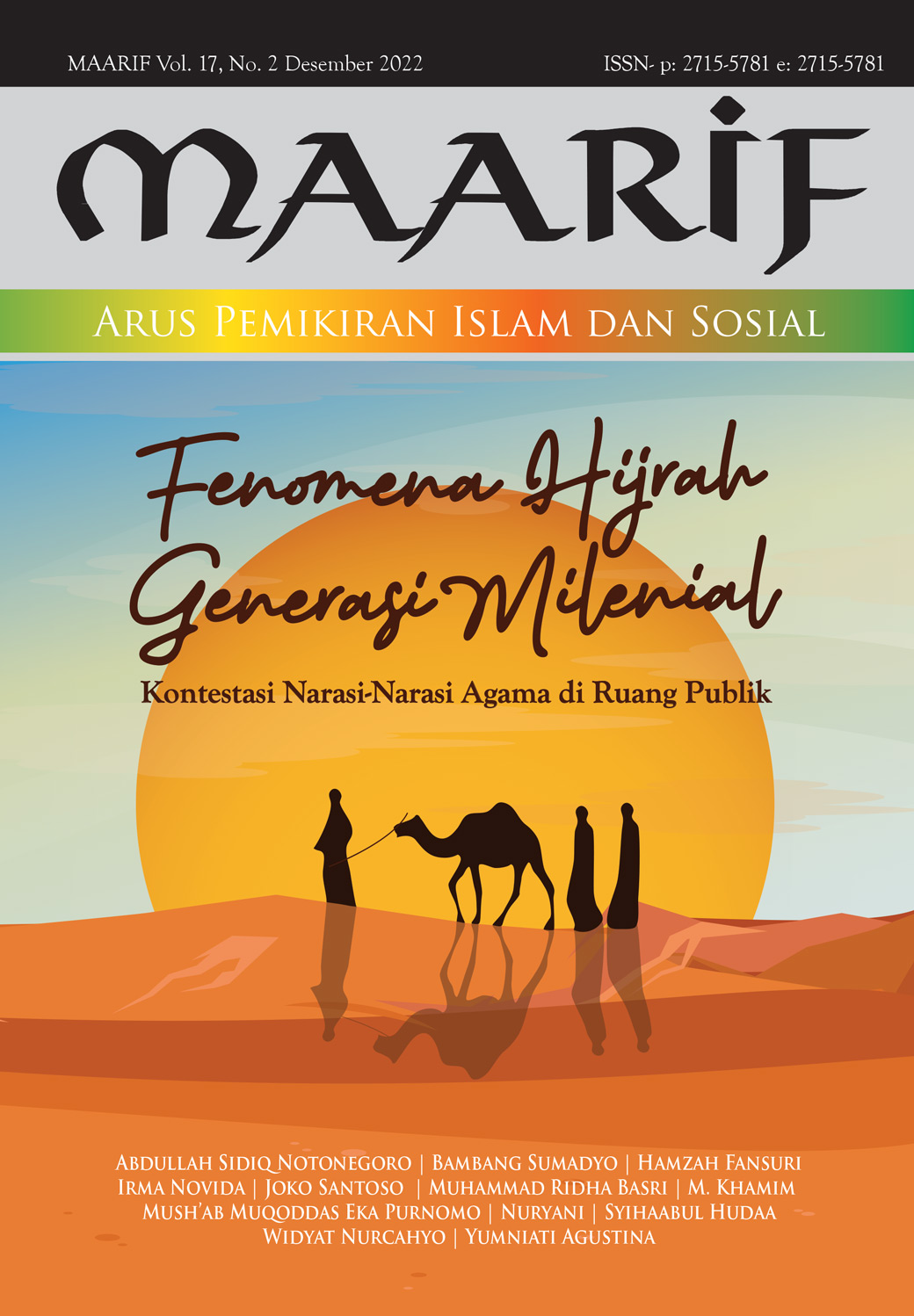 Downloads
How to Cite
Basri, M. R. (2023). Gejala Hijrah di Indonesia: Transformasi dari Islamisme Fundamentalis Menuju Islamisme Populer. MAARIF, 17(2), 31–51. https://doi.org/10.47651/mrf.v17i2.193
License
This work is licensed under a Creative Commons Attribution-ShareAlike 4.0 International License.