Media Baru dan Otoritas Keagamaan Generasi Milenial Muslim
Keywords:
Media baru, otoritas keagamaan, generasi milenial
Abstract
Media baru menjadi media utama dalam penyebaran informasi saat ini. Dengan media ini informasi dapat disebarkan dengan cepat dan masif. Para pegiat keagamaan juga menjadikan media ini sebagai media penyebaran pengaruhnya. Target dakwah mereka, Generasi Milenial Muslim menjadi generasi baru dalam target dakwah di Indonesia. Generasi ini menjadikan media baru dalam mencari informasi, termasuk sumber-sumber pengetahuan keagamaan. Platform Instagram dan YouTube merupakan dua kanal yang palinng sering digunakan dalam menyebarkan dan menerima informasi keagamaan. Para dai yang mengisi ceruk-ceruk ini juga memanfaatkan media baru sebagai media alternatif dalam menyebarkan pengaruh keagamaan.
Downloads
Download data is not yet available.
References
Azra, Azyumardi, Konteks Berteologi di Indonesia: Pengalaman Islam, Jakarta: Paramadina. 1999.
Dale F. Eickelman dan John W. Anderson, New Media in the Muslim World: The Emerging Public Sphere. Bloomington: Indiana University Press. 2003.
Daniel, B.K. Handbook of Research on Methods and Techniques for Studying Virtual Communities: Paradigms and Phenomena. New York: Information Science Reference. 2011.
Gaborieau, Marc. "Redefining Religious Authority in South Asian Muslims", dalam Azra, Azyumardi, Kees van Dijk, dan Nico JG Kaptein, Varieties of Religious Authority: Changes and Challenges in 20th Century Indonesian Islam. Singapore: ISEAS. 2010.
Hasan, Noorhaidi. Literatur Keislaman Generasi Milenial, Yogyakarta: Pascasarjana UIN Sunan Kalijaga Press, 2018.
Hine, C. Ethnography for Internet. Embedded, Embodied, and Every day. (1 st). New York: Bloomsbury Academic. 2015.
Irwansyah. Teknologi Komunikasi Sebagai Eksistensi Kekerabatan: Studi Analisa Jaringan Sosial Kekerabatan Berbasis Teknologi Komunikasi Telepon Seluler (Jakarta: Universitas Indonesia). 2010.
Jeffery Hadden dan Douglas Cowan, eds., Religion on theInternet: Research Prospects andPromises, Religion and the Social Order, volume 8, New York: JAI Press, 2001.
John Naisbitt, Mind Set, (terj. Syamsul Wardi), (Jakarta: Daras Book), 2009.
LevManovich, "New Media from Borges to HTML." dalam Noah Wardrip-Fruin dan Nick Montfort(eds.), The New Media Reader. Cambridge& Massachusett. 2003.
Mutohharun Jinan, New Media dan Pergeseran Otoritas, Keagamaan Islam di Indonesia Jurnal Lektur Keagamaan, Vol. 10, No. 1, 2012: 181 – 208.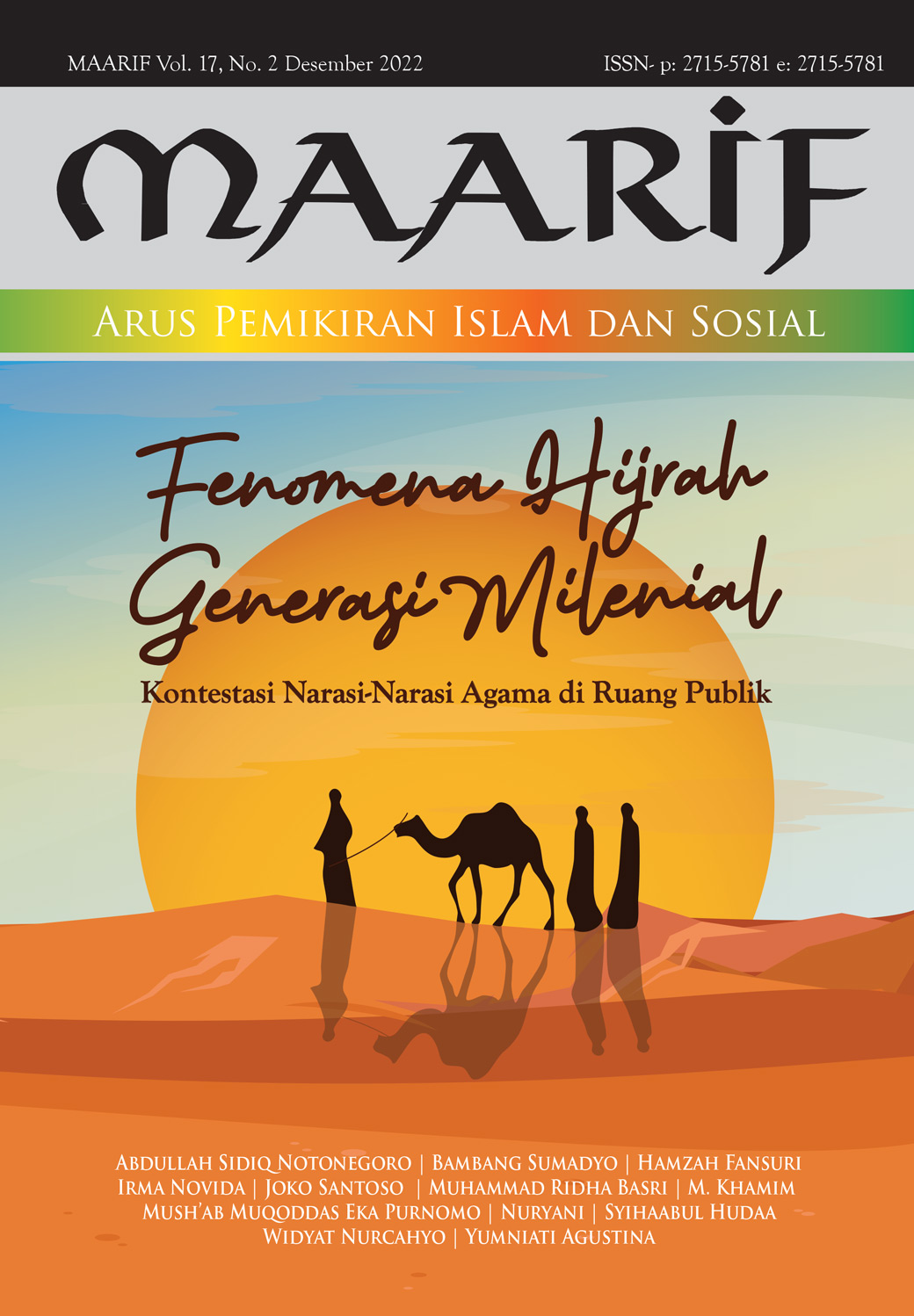 Downloads
How to Cite
Santoso, J. (2023). Media Baru dan Otoritas Keagamaan Generasi Milenial Muslim. MAARIF, 17(2), 87–104. https://doi.org/10.47651/mrf.v17i2.196
License
This work is licensed under a Creative Commons Attribution-ShareAlike 4.0 International License.