Current Issue
Vol. 16 No. 2 (2021): Islam, Kesetaraan Gender, dan Pemberdayaan Kaum Perempuan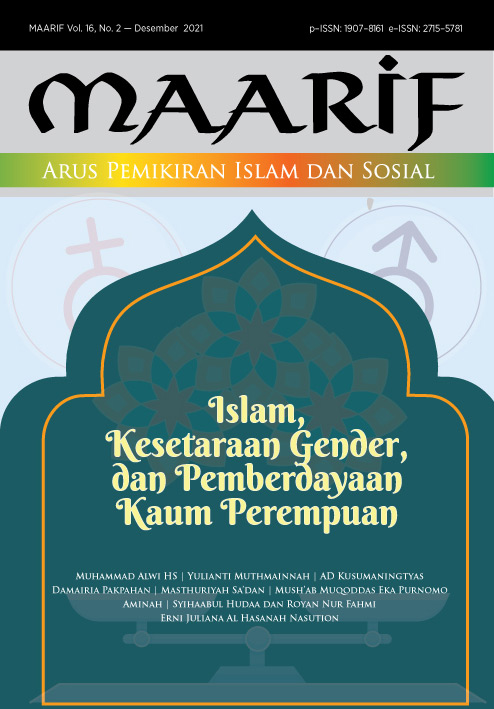 Artikel-artikel dalam jurnal ini secara umum melihat secara kritis bagaimana Islam memandang perempuan, serta peran perempuan di ruang publik. Seiring perkembangnya zaman, kaum perempuan mempunyai pemikiran maju dan berkarya di tengah-tengah publik sesuai dengan kemampuan bidangnya untuk memperkuat eksistensi kaum perempuan, memperkuat kepemimpinan perempuan dan memperkuat organisasi-organisasi perempuan yang konsen pada isu gender. Demikian juga, meningkatkan keterwakilan perempuan dalam lembaga pengambil keputusan untuk mempengaruhi kebijakan-kebijakan pemerintah, peraturan-peraturan dan kualitas layanan dasar, agar memenuhi kebutuhan perempuan secara lebih proporsional.
View All Issues
MAARIF journal editors invite academics, researchers, religious leaders and activists to submit articles, both research results and ideas, in accordance with the themes / issues that are the topic of discussion in each edition. Article writing refers to the standards of writing scientific articles, as found in the Petunjuk dan Format Penulisan Artikel link.
Apart from accessing the MAARIF Journal through the journal-maarifinstitute.org website, the MAARIF Journal in physical form can also be purchased in the circulation section (Pripih Utomo: 0855-9178-5279). We also received support for the publication of the MAARIF Journal in the form of donations through the MAARIF Institute account at Bank BNI Gambir Branch, 0114179273, on behalf of the A. Syafii Maarif Foundation. Each endorsement please provide a description of "MAARIF JOURNAL SUPPORT."