Current Issue
Vol 15 No 1 (2020): Agama, Sains, dan Covid-19: Mendialogkan Nalar Agama dan Sains Modern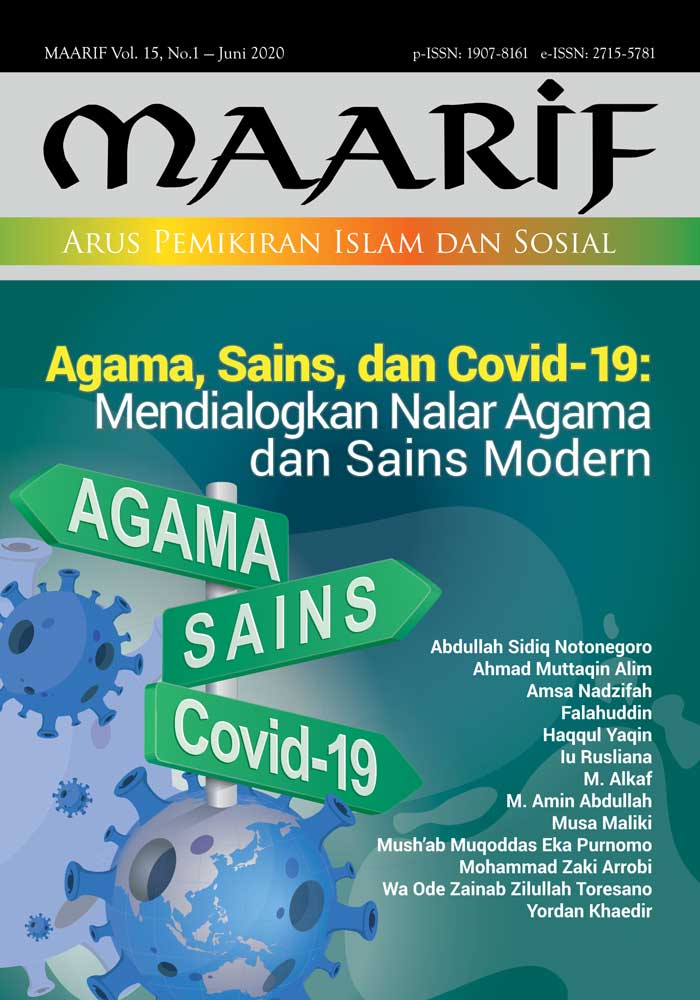 Sejumlah artikel dalam jurnal edisi kali ini telah memberikan banyak perspektif, untuk memperkuat etos keagamaan dan etos keilmuan. Juga, mampu melihat secara kritis dan otoritatif untuk membicarakan dua bidang wilayah, baik wilayah agama maupun ilmu pengetahuan. Pula, dapat mengurangi kesenjangan penafsiran di antara dua bidang yang semakin lama semakin terspesialisasi ini. Artikel-artikel dalam jurnal ini harus kita baca secara kritis guna melihat celah menyikapi Covid-19 dengan pendekatan integrasi agama dan sains sebagai paradigma penyelesaian krisis.
View All Issues
MAARIF journal editors invite academics, researchers, religious leaders and activists to submit articles, both research results and ideas, in accordance with the themes / issues that are the topic of discussion in each edition. Article writing refers to the standards of writing scientific articles, as found in the Petunjuk dan Format Penulisan Artikel link.
Apart from accessing the MAARIF Journal through the journal-maarifinstitute.org website, the MAARIF Journal in physical form can also be purchased in the circulation section (Pripih Utomo: 0855-9178-5279). We also received support for the publication of the MAARIF Journal in the form of donations through the MAARIF Institute account at Bank BNI Gambir Branch, 0114179273, on behalf of the A. Syafii Maarif Foundation. Each endorsement please provide a description of "MAARIF JOURNAL SUPPORT."